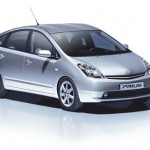 At JJ's Auto Clinic, we've been capable of maintaining your Hybrid vehicles since they were first dreamed up by the automobile companies. The equipment the dealer has for servicing these special and unique vehicles is the same as our own. Whether it's a Toyota Prius, Honda Insight, or another hybrid model, we can service it quickly and correctly, and we regularly save people money off what the local dealers want to charge for their service. People looking for a quality Hybrid Service Facility have found a home here.
We've invested in the training for our already very qualified technicians, so they understand the unique technology and specialized hybrid systems these autos use. Our technicians are experts in the unique qualities of hybrids. The equipment our technicians have access to makes servicing, and maintaining these complicated vehicles an easy task, whether the problem is big or small.
…And, with our exclusive 3 year, 36,000 mile warranty, choosing us for your vehicles' service is the easiest decision you'll ever make!
Don't' let the local dealer fool you, you can have your vehicle maintained elsewhere, be happier, and have money left in your checkbook afterward! Federal Law says they must honor your warranty – even if you choose to have maintenance done elsewhere. (Magnusson – Moss Act 1975, Title 15 Chapter 50-Section 2301-2312 US Federal Code)