Our 2018 New Year's Special
Oil Change, Filter And Lube (Up To 6 Qts. Of Reg Oil)
Rotate All Four Tires (If Needed)
Our Courtesy Inspection Includes:
Check Coolant Level
Check Transmission Fluid
Check Exhaust System
Check Wiper Blades
Adjust Tire Pressure
Check Brakes
Check Hoses
Check Drive Belts
Check Alternator
Check For Fluid Leaks
Check Exterior Lights
Check Power Steering Fluid
Check Battery
Check Tire Wear
Check Radiator Cap
A $39.95 Value For Only
$29.95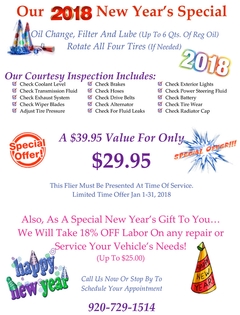 This Flier Must Be Presented At Time Of Service.
Limited Time Offer Jan 1-31, 2018
Also, As A Special New Year's Gift To You…
We Will Take 18% OFF Labor On any repair or Service Your Vehicle's Needs!
(Up To $25.00)
Call Us Now Or Stop By To Schedule Your Appointment
920-729-1514