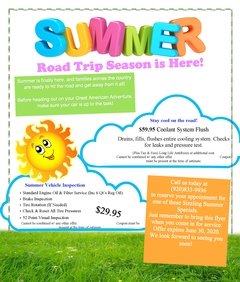 Summer is finally here, and families across the country are ready to hit the road and get away from it all! Before heading out on your Great American Adventure, make sure your car is up to the task!

Stay cool on the road!

$59.95 Coolant System Flush
Drains, fills, flushes entire cooling system. Checks for leaks and pressure test.

$29.95 Summer Vehicle Inspection
Standard Engine Oil & Filter Service (Includes 6 Qt's Reg Oil)
Brake Inspection
Tire Rotation (if needed)
Check & Reset All Tire Pressures
52 Point Visual Inspection

Call us today at (920) 833-9936 to reserve your appointment for one of these Sizzling Summer Specials. Just remember to bring this flyer when you come in for service. Offer expires June 30, 2020 We look forward to seeing you soon!