Labor Day Special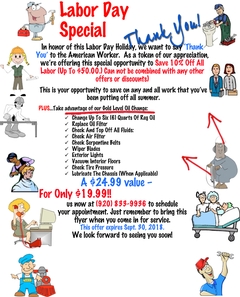 In honor of this Labor Day Holiday, we want to say 'Thank You' to the American Worker. As a token of our appreciation, we're offering this special opportunity to Save 10% Off All Labor (Up To $50.00.) Can not be combined with any other offers or discounts)
This is your opportunity to save on any and all work that you've been putting off all summer.
PLUS…Take advantage of our Gold Level Oil Change:
Change Up To Six (6) Quarts Of Reg Oil
Replace Oil Filter
Check And Top Off All Fluids:
Check Air Filter
Check Serpentine Belts
Wiper Blades
Exterior Lights
Vacuum Interior Floors
Check Tire Pressure
Lubricate The Chassis (When Applicable)
A $24.99 value –
For Only $19.99!!
Call us now at (920) 833-9936 to schedule your appointment.
Just remember to bring this flyer when you come in for service.
This offer expires Sept. 30, 2018.
We look forward to seeing you soon!